The International Guild of Town Pipers presents:
In Dulci Jubilo
Christmas repertoire for Renaissance winds
26th & 27th October 2013 at the Foxlowe Centre, Leek, Staffordshire
The IGTP would like to invite players of Renaissance loud winds for a weekend workshop exploring Christmas repertoire of the 16th & 17th centuries. Experienced workshop leader and York Wait Tim Bayley will be guiding participants through large scale works by Praetorius and his contemporaries, while our brass specialist Sam Goble will be taking brass sectionals and offering guidance all round. Participants should go home with fresh inspiration for programming their Christmas concerts and events.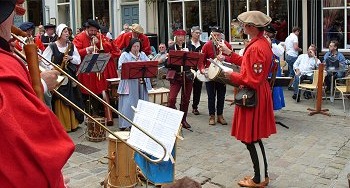 Venue:
Foxlowe Arts Centre (www.foxloweartscentre.org.uk) is a new community-run venue in Leek's busy Market Place. It has its own gallery, cafe and cinema as well as several rooms which we shall be using for our workshop. The postcode is ST13 6AD .
Programme of events:
Both days will follow the same basic timetable:
9.30am welcome/tea
10.00am tutti session
11.00am tea/coffee break
11.30am reed/brass sectionals
12.30pm lunch break
1.30pm small groups session 1
2.30pm small groups session 2
3.30pm tea/coffee break
4.00pm tutti session
5.00pm end
In addition there will be a concert by Piva on Saturday evening (see below) and their director, the leading instrument maker Eric Moulder will be joining us on the Sunday to offer an instrument surgery for individuals throughout the morning and a workshop tour between 1.15 and 2.15pm. Bagpipe maker Sean Jones will also be around for bagpipe advice and sales.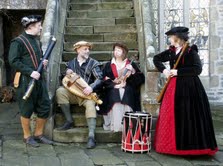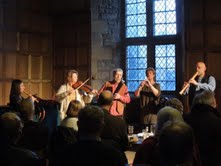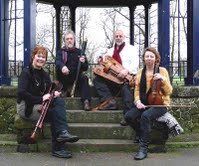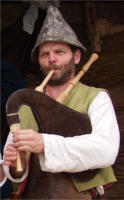 The repertoire:
This weekend will explore the range of music available to Waits bands for the Christmas period. There is a vast amount of music out there, some known to us through the modern carol repertoire but much of which is unfamiliar to all but Early music specialists. This latter category includes some great tunes and pieces suitable for loud winds however, and some wonderful larger scale works in 6 or more parts. In the large tutti sessions of the workshop we will explore some of these larger polychoral works by composers such as Michael and Hieronymous Praetorius, Scheidt, Altenburg, Eccard and Bassano, while in the smaller sessions there will be time for some old favourites and some new discoveries too.
Tutors:
Tim Bayley has been a member of The York Waits since the late nineteen-seventies, and plays shawm, curtal, flute, recorder, crumhorn, rackett, bagpipes, trumpet, hurdy-gurdy etc., as well as doing a lot of the group's arrangements. He regularly runs workshops for NEEMF and other early music organisations, and his skill in bringing together players of diverse instruments and ability levels is legendary. He is the leader of choice when massed waits gather for our "big blow" at our biennial international festivals. In the twenty-first century he is a private and peripatetic music teacher, with the clarinet as his principal instrument.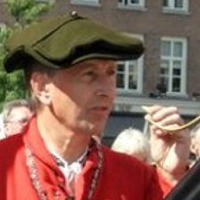 Sam Goble is quickly establishing himself as one of the UK's most prominent cornetto players. Born in Portsmouth he discovered the cornetto whilst studying for his A-levels, going on to study for his undergraduate degree in London under Richard Thomas and Jeremy West. Sam is interested in exploring the repertoire and usage of the mute cornetto, tenor cornetto and the cornettino. He is also an experienced educator of the cornetto teaching at the University of Hull, the University of East Anglia and Dartington International Summer School.
As well as being a member of both QuintEssential and the English Cornett and Sackbut Ensemble, Sam regularly performs with some of the most influential groups in Europe such as Cantus Cölln, Academy of Ancient Music, Gabrieli Consort and Players, Orchestra of the Age of Enlightenment, I Fagiolini, and the Monteverdi Choir and Orchestra.
Sam also makes historical mouthpieces for all sizes of cornetti, serpents, baroque trumpets, sackbuts, ophicleides and bass horns used by a rising number of professional and amateur players in the UK and Europe, and as far as America, Australia and Japan.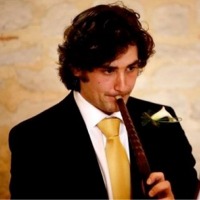 Do you have an idea for a small group session?
The small group sessions in the afternoon could be a chance for you to get organised amongst yourselves and try out something with other participants that you wouldn't usually get to do, e.g. massed crumhorns, bagpipes or other instruments more often in the minority or a particular type of repertoire. However, after our last workshop at Fingringhoe it was suggested that some guided sessions should also be available in these slots. So, if you have an idea for a one hour session for 4-8 players which you could lead in one of these slots please outline it on your application form. If your idea is chosen then you will receive a 50% refund on your workshop fee for the rest of the weekend!
Concert:
Local group Piva will be performing a concert of music from renaissance Europe at 7.30pm on Saturday 26th October at the Foxlowe Cenre. A discount will be offered on the ticket price for workshop participants.Their concert will include popular dance and ballad music from the 16th century played on a wide range of instruments from bagpipes and hurdy-gurdies, through to violin and recorders. Founded in 2002, Piva have firmly established themselves as one of this country's leading early music ensembles. Playing throughout the UK and Europe, they have gained a reputation for giving lively performances of music from the Renaissance period.
Fees:
The fee for the weekend's participation will be £55 per person. A one day fee of £40 is also available. Please send in your fees as soon as possible as this allows us to secure the booking of our tutors. Cheques should be made payable to "The International Guild of Town Pipers" and posted to Lizzie Gutteridge, 20 Honywood Close, Marks Tey, Colchester, Essex, CO6 1HN along with your completed application form. Alternatively you can email your form to [email protected] and pay by paypal using the donate button below, being sure to label your donation with your name and "October workshop"