Music of the Waits and Royal Wind Bands of Sixteenth Century Europe
21st April 2012
Directed by Tim Bayley of The York Waits
10am – 5pm, Holy Apostles Church, Charlton Kings, Cheltenham, GL52 6HW.

South West Early Music Forum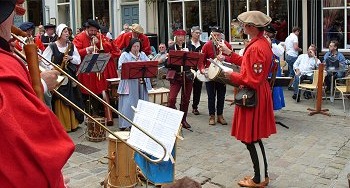 Tim has studied, perfromed and tutored Renaissance wind and brass for thirty years, championing this repertoire with his colleagues in the York Waits. He frequently gives early music demonstrations and leads performance workshops, and is ecperienced at combining different instruments and levels of experience into a cohesive ensemble. The aim will be to provide players with an opportunity to enjoy the rich and varied sonorities of a Renaissance Big Band.
Applications are welcome from players of Renaissance wind instruments – shawms, sackbuts, cornetts, curtals, crumhorns and recorders.
The repertoire will be drawn from across Europe, including German chorales, Italian carnival music, French dances, Flemish polyphony and music from the English Tudor Court.
Pich will be A=440. Please bring your own music stand. Players should be competent to sight-read a part fairly confidently on their chosen instruments; this is NOT a suitable course for beginners.
Organiser: Simon Pickard: 01242 579016.