Workshops
Lincoln Early Music Courses
SennflFest III: October 2nd/3rd 2010
Tutor: Philip Thorby
Location: Pre-Prep Department of the Lincoln Minster School, Church Lane, Lincoln LN2 1QR.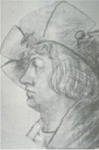 Ludwig Sennfl (1489/91 – 1543) is gradually being recognised as one of the finest and most versatile composers of the early 16th century. On the course we will be discovering the delights of Geman tenorlieder, (both sacred and decidedly secular), motets, mass propers and instrumental music. Those who have attended the previous Sennfl courses will find little duplication of material. The weekend will include a simple Bavarian-style meal without the excesses of last year!

Philip Thorby needs little in the way of introduction: for many years he has held a reputation for excellence in many fields of early music. He has a particular sympathy with Sennfl and his contemporaries and is a well-known and charismatic tutor.

Lincoln Early Music Courses are organised by Kathleen and Peter Berg [who are both musicians with the City of Lincoln Waites]. Lincoln Early Music Courses have been a source of great enjoyment and motivation for early musicians since their first course in 1995.

Kathleen Berg is the author of 'The Swiss Orpheus' – an appraisal of the life and music of Ludwig Sennfl.