Lincoln Early Music Courses
Dowland: June 5th/6th 2010
Tutor: Stewart McCoy
Location: Pre-Prep Department of the Lincoln Minster School, Church Lane, Lincoln LN2 1QR.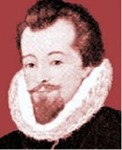 John Dowland (?1563 – 1626) epitomises secular Elizabethan court music. This course is suitable for singers, lutenists, viol players and recorder players, and will include both vocal and instrumental music.

Stewart McCoy has a Master's degree in historical musicology from Kings College, London. As a performer of plucked instruments he is known internationally, as well as having played for the Royal Shakespeare Company, and he tutors regularly on renaissance courses.

Lincoln Early Music Courses are organised by Kathleen and Peter Berg [who are both musicians with the City of Lincoln Waites]. Lincoln Early Music Courses have been a source of great enjoyment and motivation for early musicians since their first course in 1995.