Lincoln Early Music Courses
Loud Wind Day: April 25th 2010
Tutor: Keith McGowan
Location: Pre-Prep Department of the Lincoln Minster School, Church Lane, Lincoln LN2 1QR.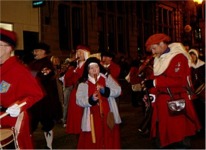 The Loud Wind course was a one-day [Sunday] event following a day's course solely for the City of Lincoln Waites on April 24th. It is open to all players of shawms, sackbuts, and similar instruments, and percussion. The music studied will be mainly from the late 15th and early 16th centuries, and will be of particular interest to waites groups.

Keith McGowan's association with Shakespeare's Globe began in the opening season as a musician in Henry V. As well as playing, Keith has since directed music at the Globe on a number of productions and has toured with them to Japan and the USA. He directs his own shawm ensemble and is a visiting Professor of Renaissance wind at the Royal Academy of Music. Keith has conducted research into the history and techniques of ceremonial wind music and plays shawm, cornett, sackbut, renaissance slide trumpet, renaissance flute and curtal.

Lincoln Early Music Courses are organised by Kathleen and Peter Berg [who are both musicians with the City of Lincoln Waites]. Lincoln Early Music Courses have been a source of great enjoyment and motivation for early musicians since their first course in 1995.
Photographs
The following Photographs were taken during the workshop.
Photographer: Dr Hilary Rhodes.