IGTP Workshop
The Music of the Tudor Waites
Directed by Keith McGowan & Jamie Savan
Coddington Village Hall, Newark NG24 2PN
This workshop was primarily for players of shawms, cornetti, sackbuts, curtals and other waits' instruments, concentrating on the core repertoire of the sixteenth century, technical aspects of the instruments, and historically informed performance practice.
The programme included large ensemble playing as well as separate sessions for reeds and brass.
REPORT ON THE WAITS' WORKSHOP AT NEWARK
On October 25th, twenty-seven of us gathered in the Scout Hut at Coddington, a previously quiet village just off the A1 on the outskirts of Newark, for the 2009 Waits' Workshop. As it had been designated a loud winds day, we had shawms, rauschpfeifes, curtals, cornets, lizards, sackbuts and percussion, and on one occasion a pipe and tabor appeared.
Workshop participants came from the waits of Colchester, Doncaster, Gloucester, Kings Lynn, Leeds, Lincoln and York, augmented by three players not attached to any group of waits. Unattached participants have in the past been inspired to go home and set up their own waits, so we'll have to see if we have inspired any of the three to do likewise.
On first entering the Scout Hut, we did notice a dusty sign on the wall requesting users to play music quietly in order not to disturb the neighbours, but we clearly had no choice but to ignore that.
Our main tutor for the day was Keith McGowan, former sackbut player but these days a master of the shawm and curtal. A few of us had worked with Keith before, but most of us only knew him from recordings. Joining us for part of the day, to take a brass-specific session, was Jamie Savan, director of His Majesty's Sackbuts and Cornetts and The Gonzaga Band, known to some of us from his own Newark early wind weekend courses.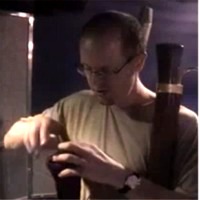 Keith lived up to our high expectations, leading us with a fine mixture of musicality, education and humour through his Globe Theatre arrangements of The Earl of Essex's Measures (Inns of Court ms.), Lavolto (Byrd), All in a Garden Green and Millison's Jig (Playford), then the more serious Angelus ad Pastores ait (Gabrieli), O Sacrum Convivium (Guerrero) and Canzon la Bevilacqua (Canali). In a short reeds technique session while the brass were elsewhere, he showed us that you really can control the reed of a "controlled reed" instrument. For the brass sectional, Jamie led cornetti, lizards and sackbuts through 'Alla Battaglia' (by Andrea Gabrieli) and 'Peccavimus cum padribus' (by Christopher Tye).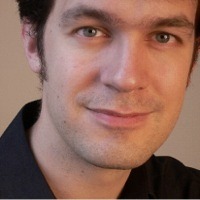 As we left at the end of the day, the nearest neighbours were at their gate just across the lane from the Scout Hut. We did enquire whether we had disturbed them, but were reassured that they had thoroughly enjoyed the day's music.
Alan Radford, Leeds Waits, 27 October 2009.
Keith McGowan

Keith graduated in music and Russian at The University of Nottingham and The Leningrad Institute of Theatre, Music and Cinematography; while studying there he became fascinated by early wind music.

His association with Shakespeare's Globe began in the opening season as a musician in Henry V. As well as playing, Keith has since directed music at the Globe on a number of productions and has toured with them to Japan and the USA. He directs his own Shawm ensemble and is a visiting Professor of Renaissance wind at the Royal Academy of Music.

Keith has conducted research into the history and techniques of ceremonial wind music and plays shawm, cornett, sackbut, renaissance flute and curtal.

Jamie Savan

A former principal trumpeter of the National Youth Orchestra of Wales, Jamie Savan began playing the cornett in 1996 while an undergraduate in Music at St Anne's College, Oxford. He subsequently studied with Jeremy West at the Royal College of Music in London; and with Bruce Dickey at the Schola Cantorum Basiliensis. Jamie has a doctorate in Performance Practice.

Jamie has been a busy freelance musician since 1997 and, in addition to directing The Gonzaga Band, he performs regularly with many of Europe's leading period instrumental ensembles.

Jamie teaches cornett at the Royal Welsh College of Music and Drama and at the University of Birmingham, where he also lectures in Baroque Performance Practice.