Yule Riding
Music for the Twelve Days
The York Waits & Deborah Catterall
Beautiful Jo Records: BEJOCD-46.   5 027682 004626 (email:[email protected]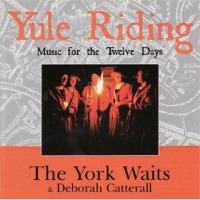 From the first blast on the Yule Horn which opens this Christmas CD, there is an air of excitement. "All manner of whores, thieves, dice players and other unthrifty folk" are then welcomed in broad Yorkshire according to the York Yule Riding proclamation.
All the tracks have a Christmas connection, and fall broadly into two contrasting categories – the "still" or quiet music, on recorders, hurdy gurdy, plucked strings, etc., often with the pure clear voice of Deborah Catterall; and the "haut" or loud shawm band, producing the spine-tingling, close-knit sound for which The York Waits have become justly famous.
Deborah Catterall has sung with The York Waits on many occasions and several of their CDs, and as an Early Music post-graduate of the Royal College of Music, knows her subject. She sings effortlessly with minimal vibrato, giving us such favourites as The Coventry Carol, Joseph lieber, Joseph mein, In dulci jubilo and Gaudete, Christus est natus as well as many Christmas songs that were new to me, such as the lament Christemas hath made an end.
In the quieter pieces generally, instruments are mixed to good effect. I was particularly taken by the use of a "bed" of Renaissance guitars and citterns with lute or harp, over which the recorders and voice can float ethereally. It was good to hear, too, Anthony Barton's typically accurate cornett make a brief, dramatic appearance on track 7, Parvulus nobis nascitur. My favourite quiet track has got to be 16, Picardy – a traditional French tune on hurdy gurdies, recorder, lute, guitar and percussion which has some exciting harmonies in the guitar chords, and uses the "zim" of the gurdies' floating bridges to drive the piece forward, making the listener want to leap to their feet and dance.
However, what most people want and expect from The York Waits is the thrilling sound of their bright Cronin shawms, playing together as one instrument and driven forward from below by William Marshall's agile sackbut. And they won't be disappointed. There are five tracks for shawm band, including the splendid track 20, Verbum caro factum est.
Overall the CD is excellently recorded and produced, although the recording equipment has yet to be invented that can capture the true sound of The York Waits at full power – a sound that one feels should be capable of bringing the very dead leaping from their graves! For that, you will have to go and see them live. See their website www.theyorkwaits.org.uk for details of their current tour.