Piffaro
Back Before Bach: Musical Journeys
Navona Records, NV6106
CD review by Alan Radford, 28 August 2017
It is always a pleasure to hear a new record by Piffaro: the renaiassance band. This Philadelphia-based, predominantly wind ensemble directed by Joan Kimball and Robert Wiemken has for over three decades worked their way through the early music repertoire with live performances and a series of themed CDs, including those focused on individual countries. Membership of the groups has changed but, throughout, the musicality and their masterly control of early controlled-reed instruments has shone through. This reviewer's closest encounter with the group was about twenty years ago at a concert and workshop at the York Early Music Festival.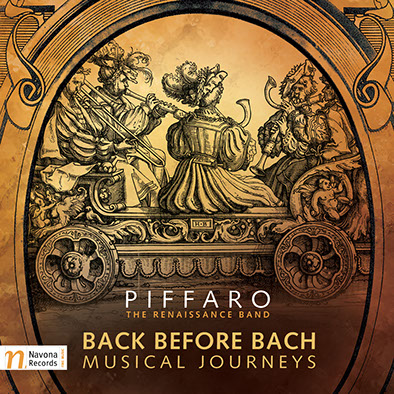 This latest CD concentrates on pre-classical classics, tunes known to waits and early musicians everywhere but little-known beyond the early music fraternity. Four standards are followed through their evolution through settings by different composers. The first, Christ ist erstanden, is traced from the anonymous setting in the Glogauer Liederbuch through composers Finck, Mahu, Isaac, Walther and Praetorius to Bach's chorale in BWV276, all performed on a typical renaissance loud wind band of shawms, sackbut and curtal. After settings by the group's co-directors, Innsbruch follows a shorter trail from Isaac for the Hessen Brothers Bruder Conrad, using a quieter band of recorders, crumhorns and bagpipes. A Solis Ortis / Christum Will Sollen Loben Schon settings cover the widest timespan from the fifth century Latin hymn via settings by Walther, Praetorius and Scheidt to that of Bach, all played by a recorder ensemble. The fourth piece followed in this manner is Tandernaken, prefaced by a setting by Joan Kimball for solo recorder and harp, into versions by Brumel, Alamire, Obrecht and Senfl.
In contrast to the evolutionary treatments above, there are two sets of German dances including an Intrada by Ghro, a Passameze, Volta, La Rosette and a Branle Simple by Praetorius, an Allemande by Scheidt and a Padouana by Schein played on shawms, sackbut, curtal and bagpipes. The collection is completed by a foray into renaissance chromaticism, with sackbuts and curtals performing Carmina Chromatico and Sybila Samia by Lassus and Mirabile Mysterium by Jacob Handl, the shawms added to the ensemble for Dei Donum Optimi by Lassus and Da Pacem Domini by Franck.
In conclusion, this is a welcome addition to any early music collection, continuing the high standards one has come to expect from Piffaro. For the listener it is an excellent selection of largely renaissance instrumental music. For the performer it is more – a benchmark of musicianship and a challenge to go out and find other settings of the standard pieces in our repertoire.