The King's Pavan
Music from the life and times of Henry VIII
Huntsup Records:   Huntsup 002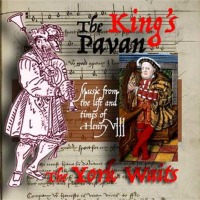 Last week I think I may have had an insight into what it would have been like to have been a Beatles fan when the band was in its hey-day. Although my taste is somewhat more specialist, when The York Waits' latest CD landed on my doormat I couldn't wait to tear off the plastic and see what they'd done this time.
It takes a very special band to be able to surprise you when they have been playing together for 30 years, and when the material is from one of the most popular and regularly-performed periods of musical history. How can a CD of music from the time of Henry VIII not fall into a series of clichés and repetitions of familiar material? Yet I had high expectations – I was hoping to be surprised, and I was.
From the opening fanfare version of Blow Thy Horn Hunter, this disc is full of fresh and interesting interpretations of the tunes we know so well, as well as some less familiar gems. Why shouldn't Blow Thy Horn be performed on natural trumpets? Or The King's Pavan on the rebec, or Pass Time With Good Company slowly and soulfully on the lute? And why shouldn't a hurdy-gurdy player stop the handle and play rests? Yet when did you last hear these things done?
Yet once the novelty has worn off there has to be more to an album to make you want to listen to it over and over again. For me it is something that I find hard to define – "a sense of drive" might come closest. It's perhaps a combination of rhythm and phrasing, with some joie de vivre thrown in, which is something the York Waits have in bundles. Their shawm band sound is lively and bright, and is at times driven forward by some virtuosic percussion work. The folkier bagpipes and fiddle tracks are full of fun, and bounce along nicely.
Of course the album does have its more reflective side and this is not only the prerogative of the recorders and lutes. There are some much more stately shawm tracks, including Lauda anima mea Dominum, better known to most of our waits bands as the livelier Munster. Possibly my favourite, however, is the arrangements of My Lady Carey's Dompe and the Hornpipe d'Angleterre with violin and plucked strings. The use of the harp as a bass instrument here gives the texture a fantastic depth.
Perhaps the only thing that is missing is some vocals. So many of these tunes have fascinating and amusing words that it seems a shame not to have included them somehow, whether by some boisterous singing from the waits themselves or a collaboration with a specialist singer. Maybe next time?