Fortune my Foe
Popular music from the period of the Gunpowder Plot
The York Waits Beautiful Jo Records:   BEJOCD-48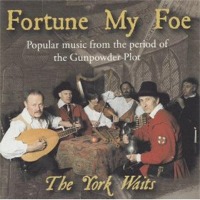 How appropriate that the York Waits' latest CD should be linked to the 400th anniversary of the Gunpowder Plot. Not only did Guy Fawkes hail from York, but the beginning of the 17th century provides a rich wealth of music central to any Waits repertoire. Looking down the playlist, many of the pieces will be familiar to all followers of renaissance music, but the settings here, mostly by Tim Bayley, gave me lots of surprises and much pleasure, from the trio of high and low C bagpipes and hurdy-gurdy playing Bartholemew Fair and Half Hannekin, to the 8 foot organ-like sound of the great consort of recorders which give special effect to the Irish Ho-Hoane.
The disk opens with The Hunt is Up and the rich, traditional sound that the York Waits have become famous for. Using shawms, sackbut, curtal and percussion, with an interlude of bagpipe variations from John Peel, this is the typical "haut" or loud, outdoor sound that would have been used by waits bands as a wake-up call. I especially enjoyed these bagpipe variations. The disk also contains much "still" or quiet, more intimate music, which the York Waits are less well-known for, using instruments such as recorders, flute, violin and lute. To complete the rich variety there is much in between. The setting Packington's Pound gives a wonderful contrast in sound quality between the lute accompanied by violin, followed by the low consort of recorders, giving an organ-like sound. For a CD to be worth buying, for me it needs to merit repeated playing. For this, on first hearing there must be at least one track which sticks indelibly in the mind, and this CD has just that: the haunting Scots Tune from the Jane Pickering Lute Book. A mournful, pentatonic melody for lute solo which, when joined by the renaissance flute at the end of the track, is completely sublime in its simplicity, reminiscent of a Chinese folk song. This was quite the opposite to what I expected from the York Waits, but this very simple tune followed me around for days. The set of tunes beginning with the title piece, Fortune my Foe, sometimes known as the "hanging tune", really sums up the dark mood of the treason in the Gunpowder Plot and the subsequent public executions: two menacing laments followed by Millfield, a well known, rumbustuous jig which was often used for contemporary ballads about treasonous acts. Having said this, the dark moments of this music are few. This CD gives us a great variety of instrumental music which is light, great fun and most enjoyable. The wide range of instruments used shows amazing versatility on the part of the players. It is beautifully recorded, excellently performed throughout, and represents great value.
© Charlie Wells, instrument maker and member of the Doncaster Waites.