Stadtpfeifer – Waits – Ministriles – Piffari
Instrumental music of the 16th and 17th century
William Dongois       Capella de la Torre       Katharina Bäumi (dir)
Coviello Classics COV 20804
Distribution and sales by Discovery Records – www.discovery-records.com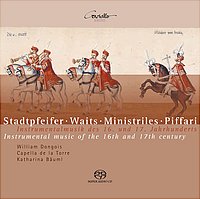 The renaissance musician who was in the employ of a princely court or as a town musician was expected to fulfill many functions. Music was required for processions, for dancing, for grieving, for worshipping and for socializing, to mention but a few.
Capella de la Torre was formed in 2005 with the express purpose of reviving the sound of the music of the late middle ages and early renaissance with particular emphasis on music for historic wind band. The consequent sound of shawms, bombard, dulcian, sackbut and cornetto is the fruit of this research and what makes this CD so exciting.
The CD takes us on a virtual journey through various European countries stopping from time to time to enjoy the variety of sounds, and marvelling at the range of styles. The performances are universally excellent, and the intonation is of the highest quality throughout, particularly the cornetto playing of William Donglois, which is magnificent.
To summarise – superb – go get it!
Reviewed by Peter Berg of City of Lincoln Waites
August 2009
Other recordings by Capella de la Torre – details from their web site
Feliz Naviad – Mediterranean Christmas Music from the Renaissance
Mater Matris Christi – Music from the Choir Books of Annaberg
Music for Emperor Charles V – 1500/1558
The Guard on the Battlement – Music by Scheidt and Praetorius