DANCE MUSIC OF THE HIGH RENAISSANCE
BOSTON SKYLINE BSD 118
Re release of ARCHIV Stereo LP 198166
From the Deutsche Gramophon series:   "THE HISTORY OF MUSIC IN SOUND"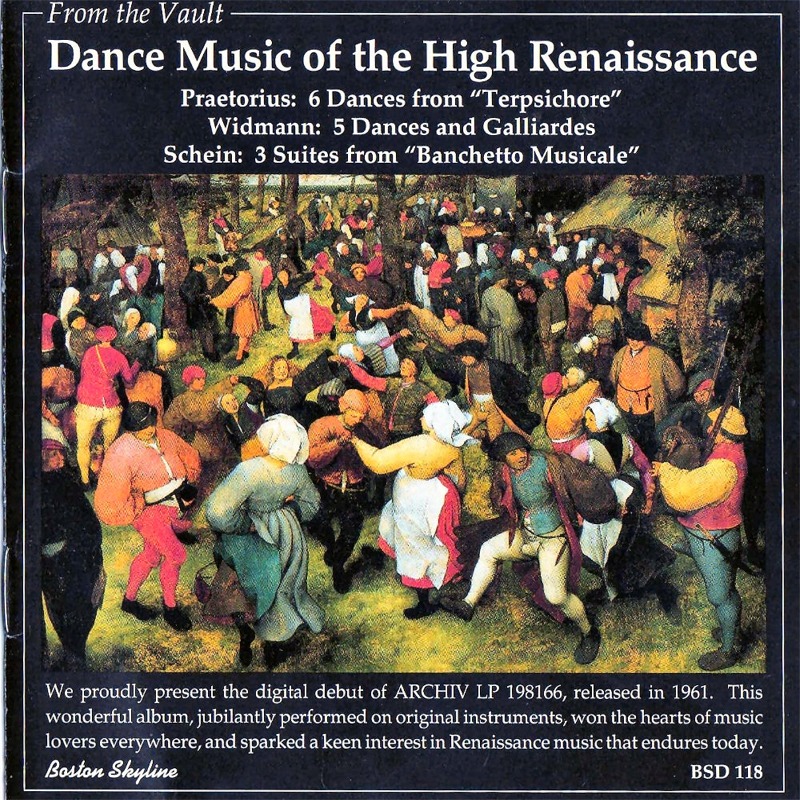 MICHAEL PRAETORIUS
6 Dances from "TERPSICHORE"
Entrée – Courante CLXXXIII/CXVII
Gavotte 1, 1 – 3, 6
Spagnoletta XXVIII
La Bouree XXXII, 1/2
Ballet CCLXVIII
Volte CCI/CCX
ERASMUS WIDMANN
5 pieces from "DER MUSIKALISCHER TUGENDSPIEGEL"
Sophia – Anna
Clara
Magdalena
Agatha
Regina
JOHANN HERMANN SCHEIN
3 Suites from "BANCHETTO MUSICALE"
There are some other tracks on the CD, originally released on an LP in 1972/3, of dance tunes by Gervaise, Molinaro, Caroubel & Praetorius.
This CD was released in America in 1993, although it has only just come to my notice. My copy came from there via the internet so perhaps its not available in this country. Its part of a series of historic LPs being re-released in a digital format.
This recording is very important to me, for nostalgic reasons, so here's some background:
The original LP was released in 1961 and at the tender age of 16, it was the first recording of 'early music' I ever bought.
At the time, I was playing in a Recorder Consort run by a man called Jim Harvey and we used to meet at his house in Hatfield. A member of the group, Peter Collingwood, who went on to become a famous Rug-Weaver, lent me his copy and it absolutely captivated me and I bought my own.
Later on, the group was absorbed into "The Hatfield School Of Music And Drama", meeting at the old Burleigh School. Eventually Jim Harvey moved away and the group was taken over by a young man called Herbert Hersom, who I believe is still around.
Then I left and went to college and eventually this group became the Mid-Herts branch of the Society Of Recorder Players.
I now play music alongside a young lady who was a member of this group in her youth. It's a small world!
In those days, there was not much around in the way of early music recordings. The English Consort of Viols produced a few and likewise Carl Dolmetsch, with Joseph Saxby on the Harpsichord and with a consort consisting of himself and his children but the recording in question was very different from what was usually to be found.
The performers are a German group, "COLLEGIUM TERPSICHORE" under the direction of FRITZ NEUMEYER. It consists of Recorders (in those days not necessarily renaissance models, Dolmetsch is mentioned) Viols, Lutes, Harpsichord, a small Organ and a rather curious array of percussion, including a Glokenspeil!
The music has been very much 'arranged' with different groups of instruments playing alternate phrases. It probably sounds strange to modern ears, hearing it for the first time, but remember, these people were pioneers, among the first in their field.
The big plus of this recording is that the music is played like dance music should be, not in the rather 'twee' fashion it still sometimes is, in concert settings. It's 'gutsy' and rhythmic and it lit my fire all those years ago and it still does!
This is old enough to have inspired, the Likes of David Munrow and the other luminaries of that period of the Early Music Revival, who went on to produce the next generation of good recordings.
Even today, nearly 50 years later, I still find the sounds exciting and if I close my eyes I am 16 again!
N.B. If you are of a similar age, you may remember this recording. If you do, buy a copy, close your eyes and listen hard and perhaps your lost musical youth will come flooding back to you!
(If you're younger, still buy a copy and share mine!)
Tony Pearson, The Ely Piper
16 April 2010