Historical Images of Waits – Dated
On This Page:
---
St Margaret's Church, King's Lynn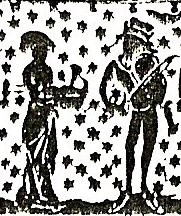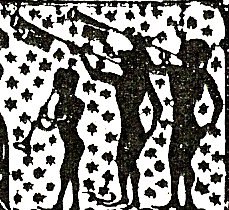 Pictures from the feast scene at the foot of the Robert Braunche brass.
Braunche was mayor of Lynn in 1349 and again in 1359. He died 15th October 1364. In 1349 King Edward III and Queen Phillipa visited Lynn and Braunche is reputed to have given them the magnificent peacock feast commemorated here.
---
(see Notes & Queries for more details)
Pfeifferstuhl by Georg Eberlein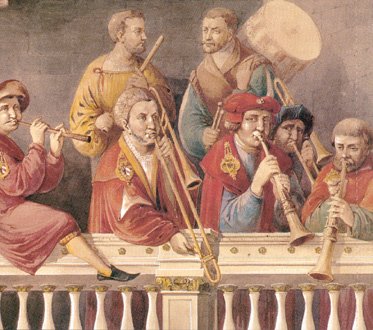 Original mural by Dürer c1500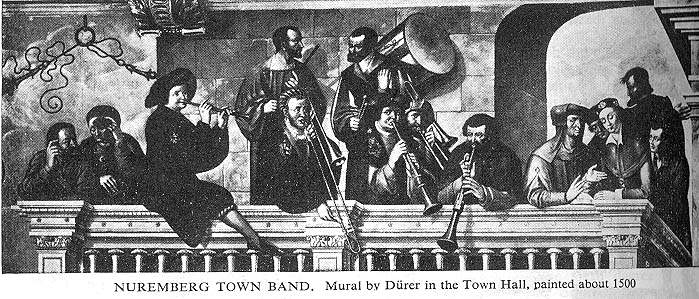 A pre-1640 copy of a picture of the Nuremberg Stadtpfeifers circa 1449, playing for a dance by the city's butchers' guild at their annual Schembart Carnival.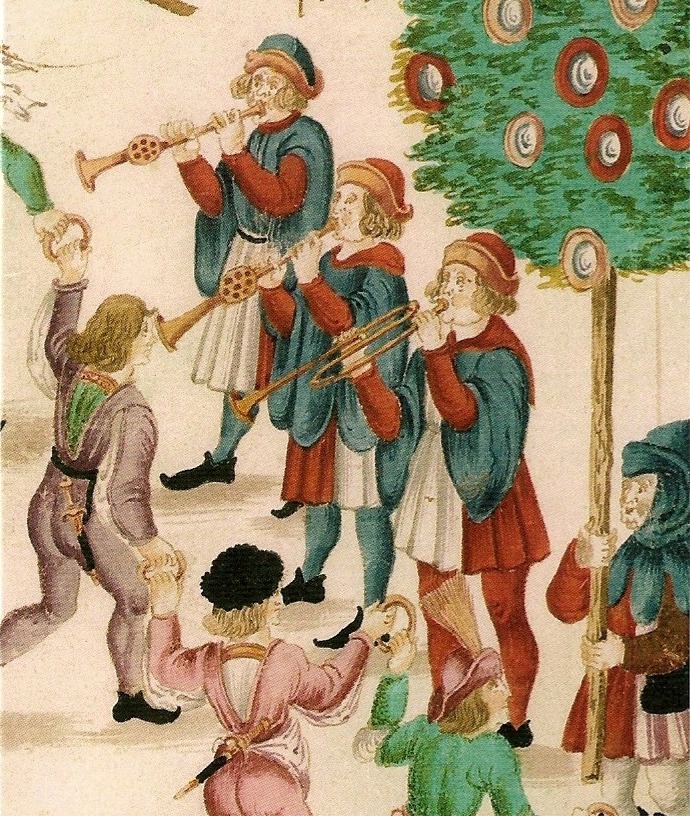 Nuremberg Stadtpfeifers circa 1519, again playing for a dance by the city's butchers' guild at their Schembart Carnival.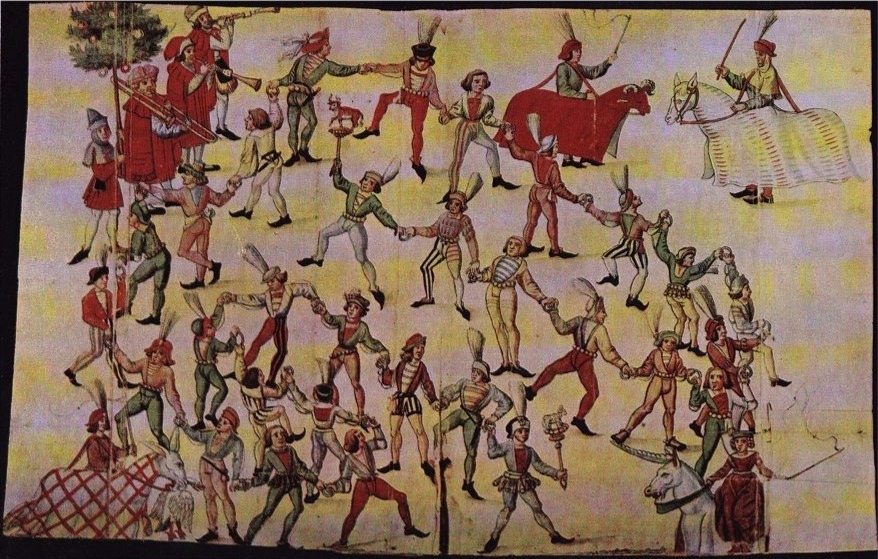 ---
Heinrich Aldegraver (1502-1555)
Ensemble of two slide-trumpets and a trombone: Heinrich Aldegrever (1502-1588), woodcut, 'Music for a wedding dance', from The Great Dances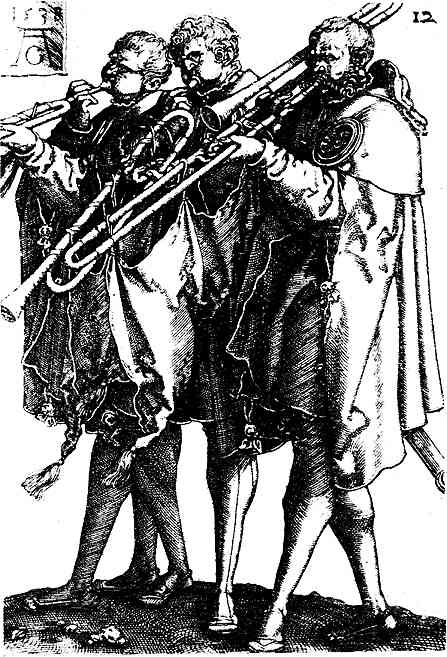 (NB same date as publication of 'Dancerye').
These chaps have livery cloaks and badges so, surely, they're stadtpfeiffer? JM.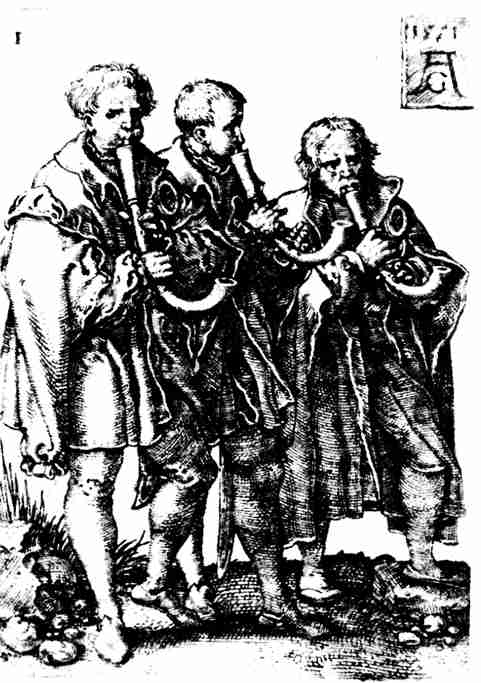 ---
A painting by the Master of Saint Auta Altarpiece, Spain (1520).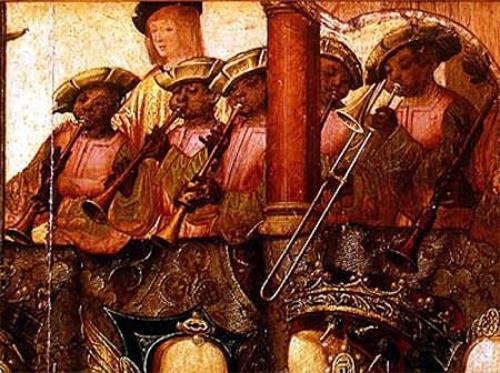 ---
from a tablecloth (160 x 180cm) made circa 1562-68, with silk, gold and silver embriodery depicting, in the middle, Count Poppo of Henneburg and his wife Sophie of Brunswick. The pair are framed by a setting by Martin Agricola of Luther's 'Ein Feste Burg" and two rows of musicians. Amongst the musicians is the woman trombone player illustrated.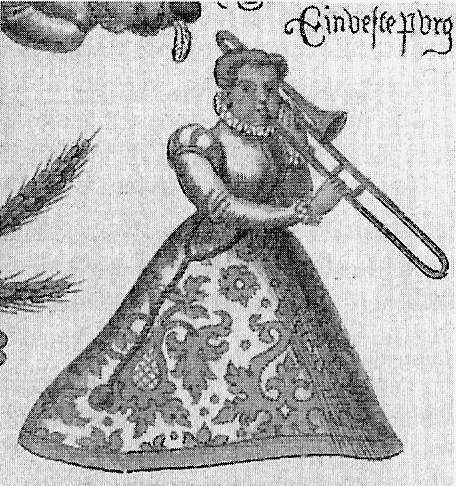 Female Slide Trumpet Player
---
Stadtgeiger and Stadtpfeiffer from Leonhard Flexel.
Grazer (i.e. from Graz) Schutzenbuch (1568). In Early Music Aug. 1989 p. 409.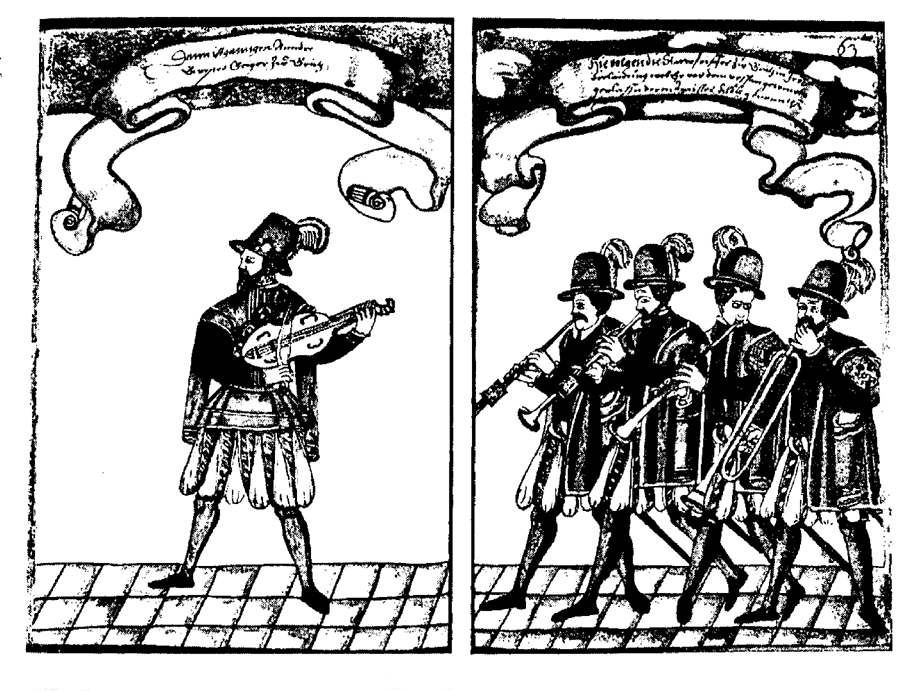 ---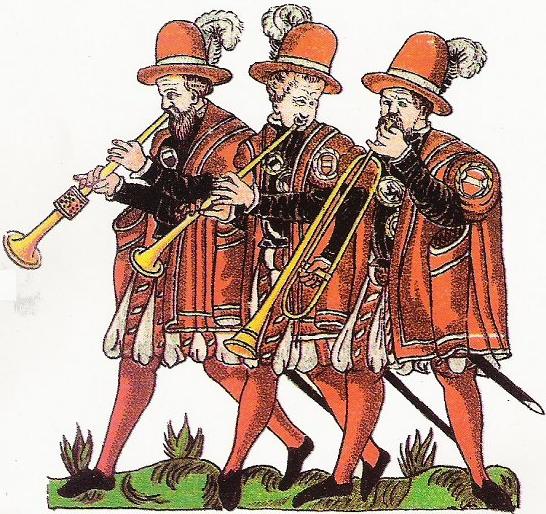 "Lobsprach des furstlichen Freischeissens" by Leinhard Flexel, Innsbruck, 1569. According to Trevor Herbert in his new book, "The Trombone", they are the Stadpfeifers of Graz.
See also the image above, which is obviously a different version of the same scene.
---
Spring Picnic by Lucas van Valkenborch 1587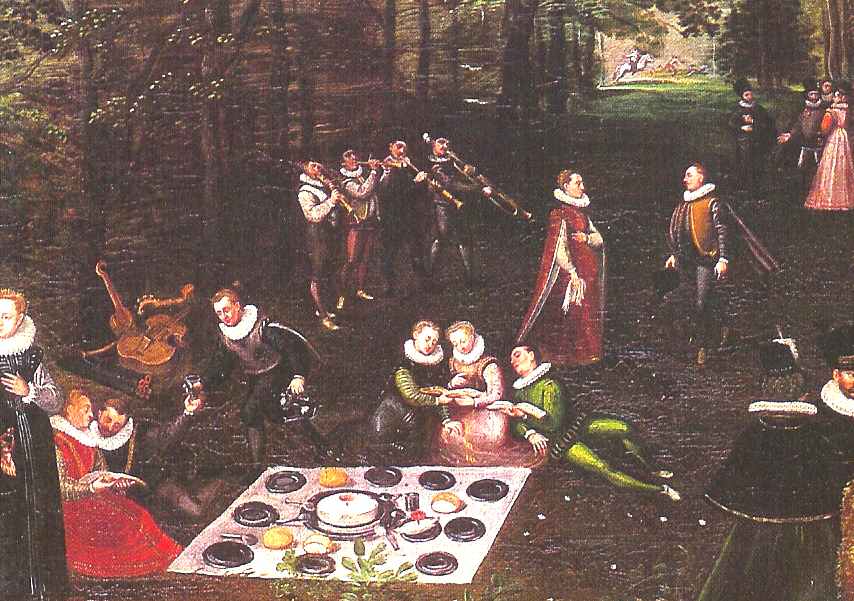 ---
Speellieden bij een promovendus op de Oude Markt van Leuven
(P. Diveaus, Res Lovaniensis, 1564).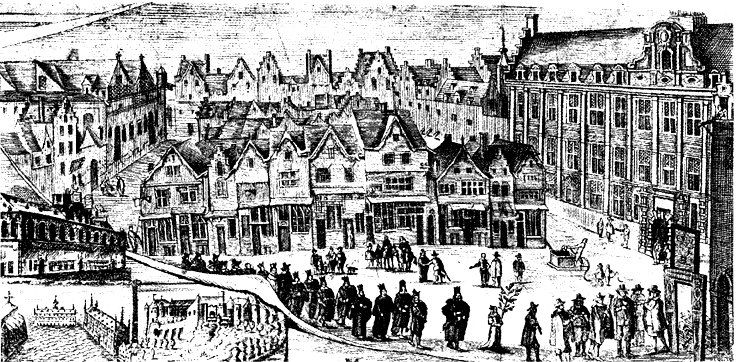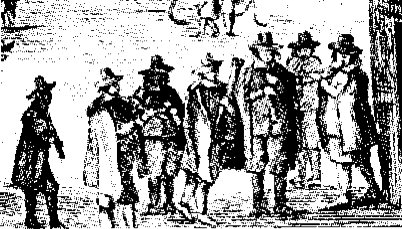 De vier Leuvense
pijpers in de jaalijkse ommegang
(W. Boonen, Geschiedenis van Leuven, 1594, deel 2).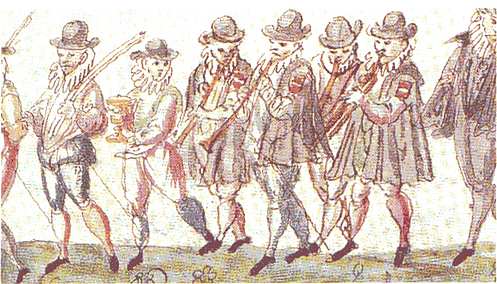 ---
Trumpeter with Instrument Case 1568
by Jost Ammann, a Swiss artist (1539-1591).
See entry in bibliography: Awouters, M, de Keyser, I & Vandenberghe, S
See also Notes & Queries.


Note the instrument case at his feet.
---
Intrede van de hertog van Anjou in 1582 to Antwerpen
(Brussel, Koninklikje Biblioteek, VH 30876C en VH 27833C).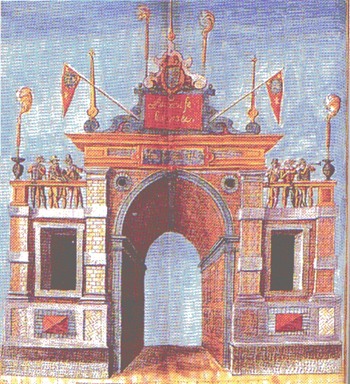 Intrede van Ernest van Oostenrijk in 1594 te Brussel
(Brussel, Koninklikje Biblioteek, VH 26662')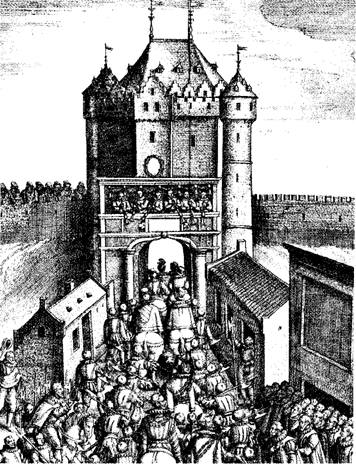 ---
What certainly appear to be the Amsterdam Stadpeipers. The Livery is apparently the City's (note the XXX upon the Lace, the main charge on the City Arms). In the Amsterdam Historical Museum.
For more on this picture, go to Notes & Queries.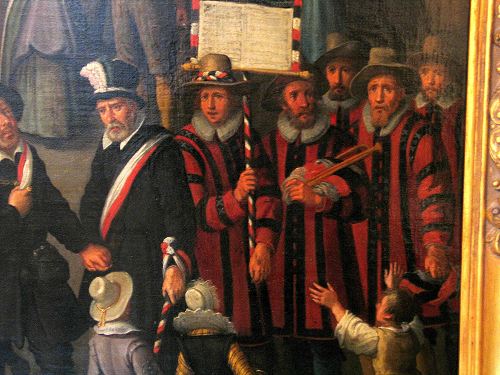 Detail showing the X's from the arms of Amsterdam on the sleeve of the livery coat.
---
Antoon Sallaert, "Archduchess Isabelle and Archduke Albert at the procession of the maids of the Sablon", 1615 Galleria Sabauda, Turin,Italy,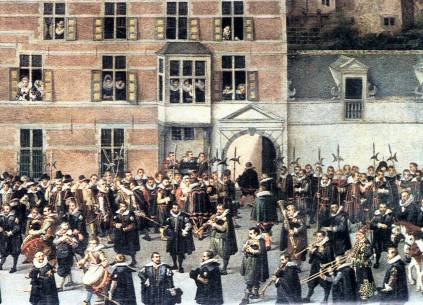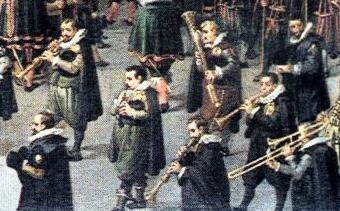 ---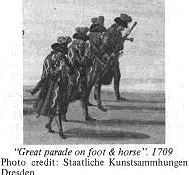 Three oboes and one bassoon rather than two and two. Good evidence of the oboe-bassoon waits in the 18th c.
---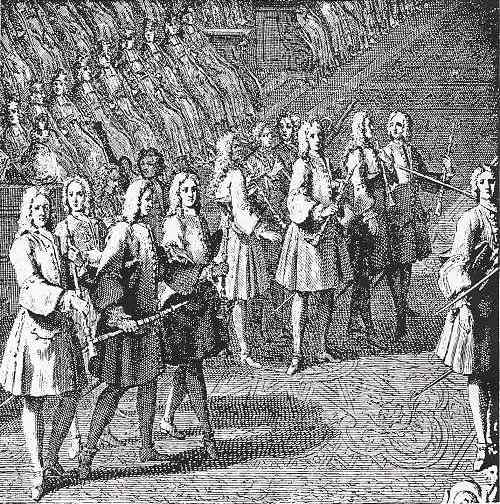 The Royal wind band of oboes, tenor oboes and bassoons, at the coronation of Louis XV.
---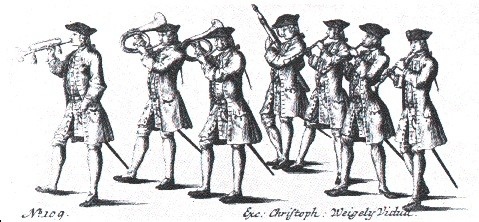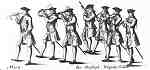 Kupferstich von Christof Weigels Witwe, Nürnberg. Heeresgeschichtliches Museum, Wien
---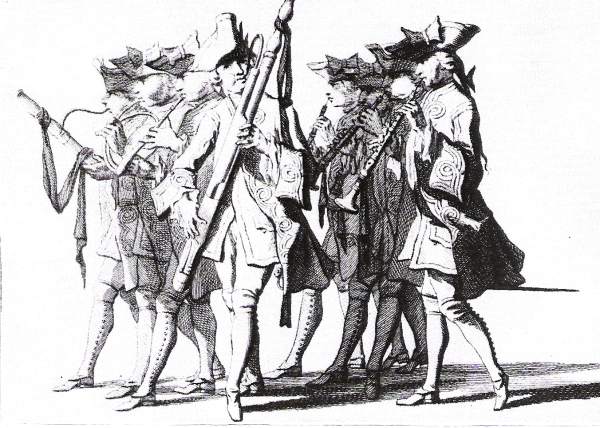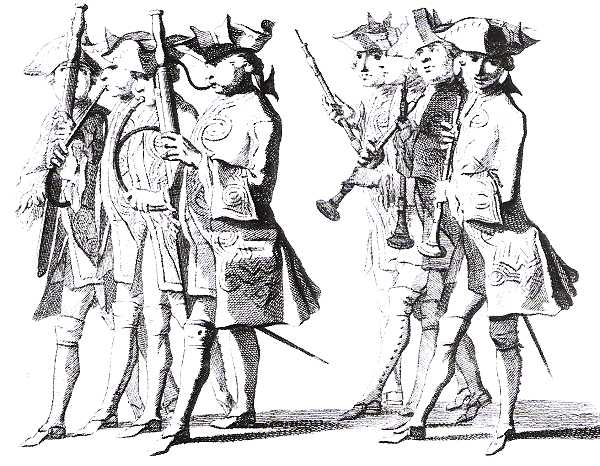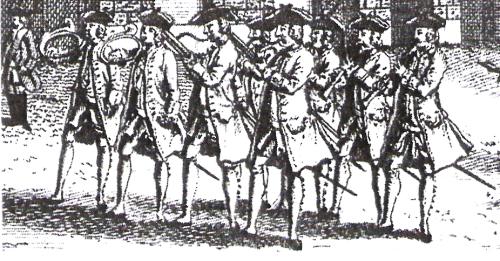 See for details.
---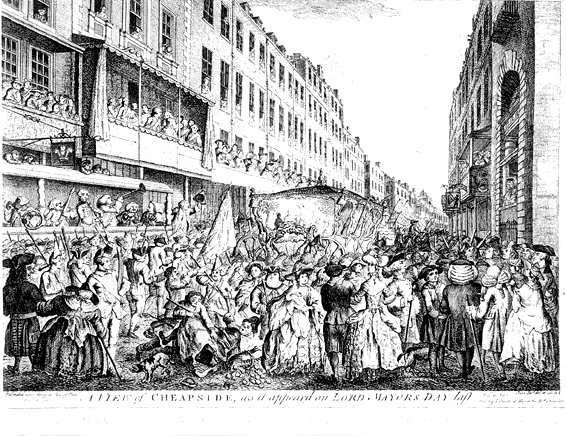 Published according to Act of Parlt   Novr 16 1761
Novr 17. 1761    Sold by I Smith at Hogarth's Hd Cheapside
A VIEW of CHEAPSIDE as it appeared on LORD MAYOR'S DAY laft
How their Majesties King George the 3rd and Queen Charlotte viewed the civic procession from Mr Davd Barclay's House opposite Bow Church.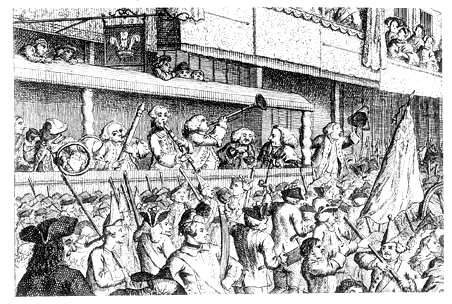 Detail from the picture on the left, showing the City of London Waits playing just below the Royal Box. (except for the horn player on the left, who is having a quick tipple!)
---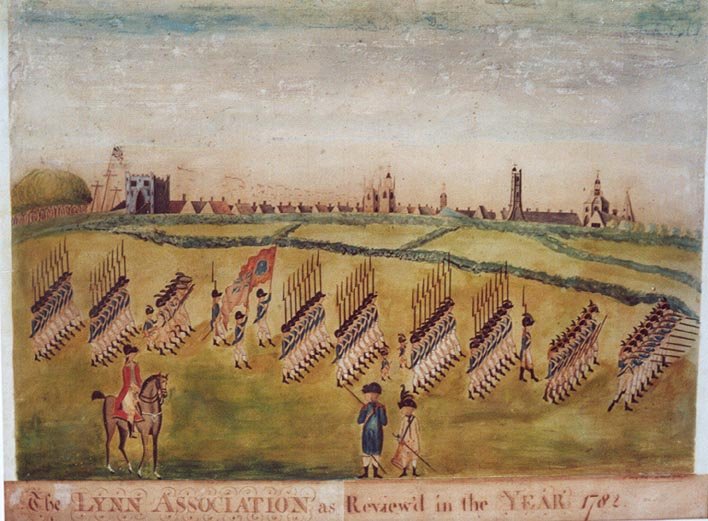 Detail of the band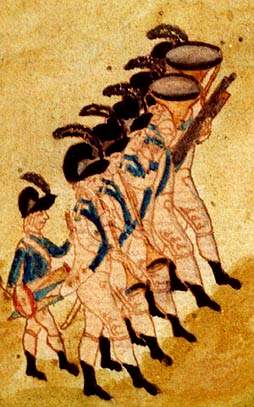 ---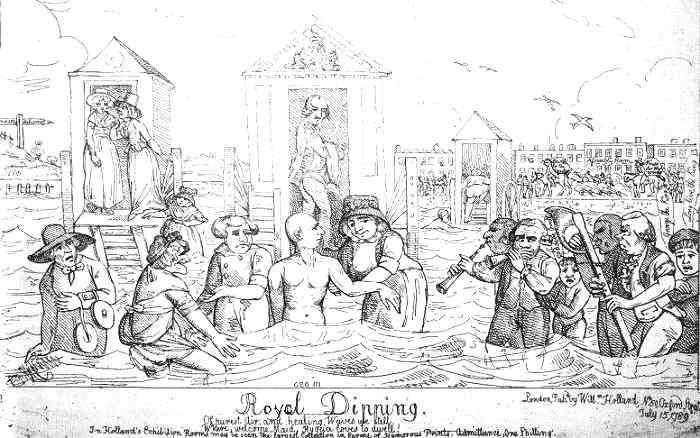 Royal Dipping
Of purest air and healing waves we tell,
Where, welcome maid, Hygeia loves to dwell.
(London, Pubd. by Willm. Holland, No. 50, Oxford Street, July 15, 1789
In Holland's Exhibition Rooms may be seen the largest collection of humorous prints. Admittance, one shilling.
A contemporary account of the occasion by Fanny Burney states:"Think but of the surprise of his Majesty the first time of his bathing; he had no sooner popped his royal head under water, than a band of music, concealed in a neighbouring machine, struck up 'God save Great George our King'."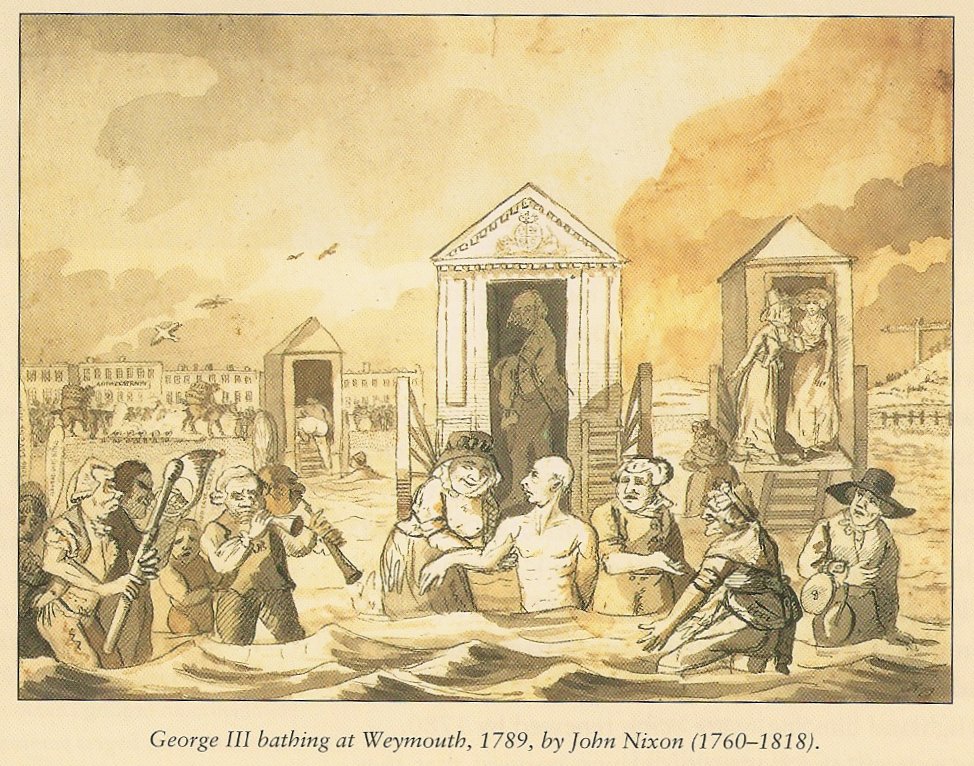 Attached is probably the (Nixon) original of the (Holland) print we already have on the site of George III bathing at Weymouth, accompanied by wet musicians. Both are dated 1789. You will notice that the Nixon is the mirror image of the one retailed by Holland, which appears to have been engraved from the former, hence printed reversed. It is difficult to confirm musically which is the correct way round, as the oboist's hands are correct on the Holland version but the bassoonist's hands are correct on the Nixon one, or were upper/lower hand positions still not fixed at that time? I think that both versions merit a place on the website. Regards, Alan.
---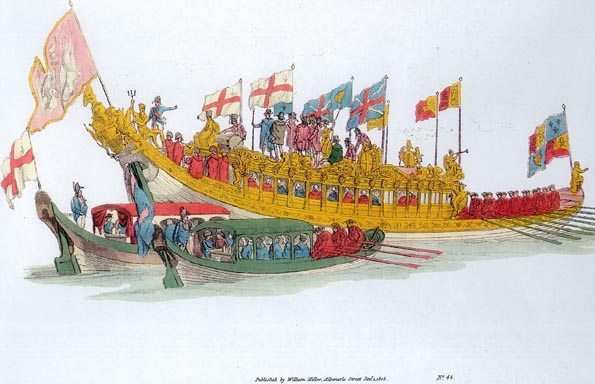 Detail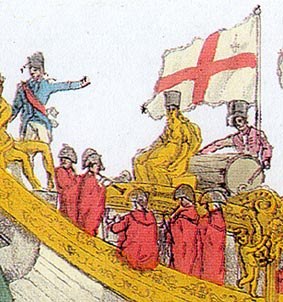 For more on the Lord Mayor's Barge and the City Waits, see
Notes & Queries and Pills to Purge Melancholy
---
A Wait of 1815
from Berwick
Based on a painting of James Wallace, last of the Berwick Waits.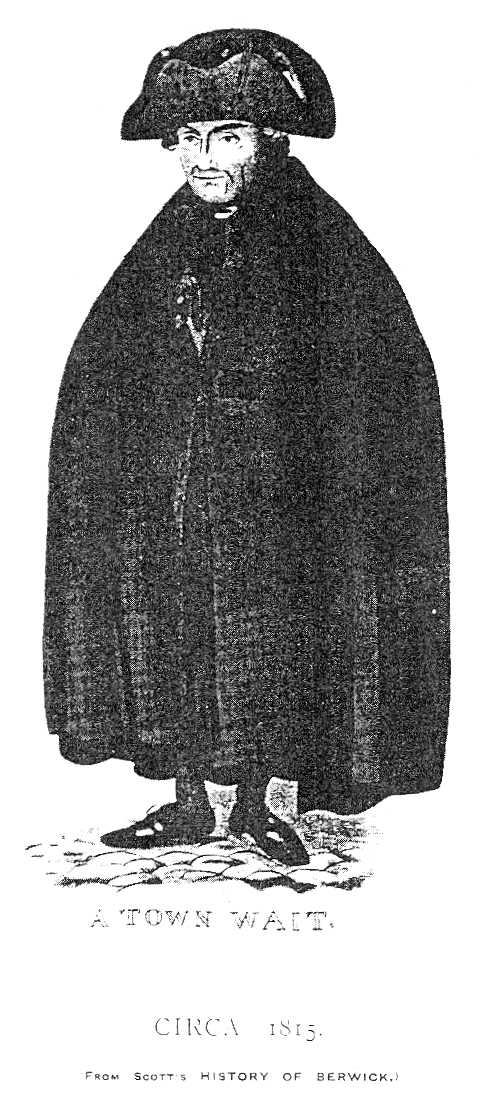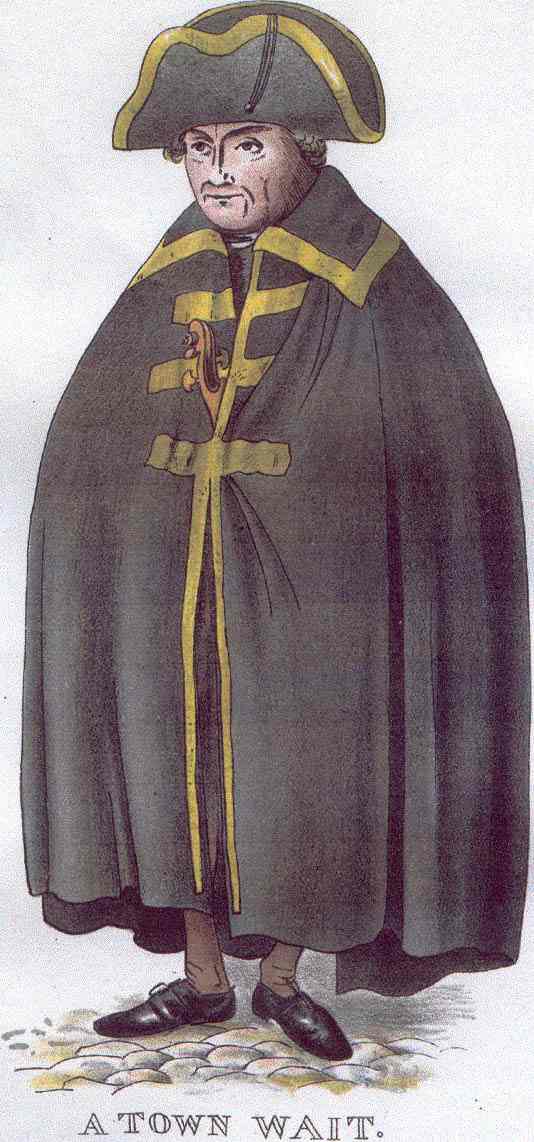 James Wallace, the last Waite of Berwick, who appears to have been blind, being led throught the streets by a wee laddie. He carries his instrument (a fiddle?) in his left hand. See Notes & Queries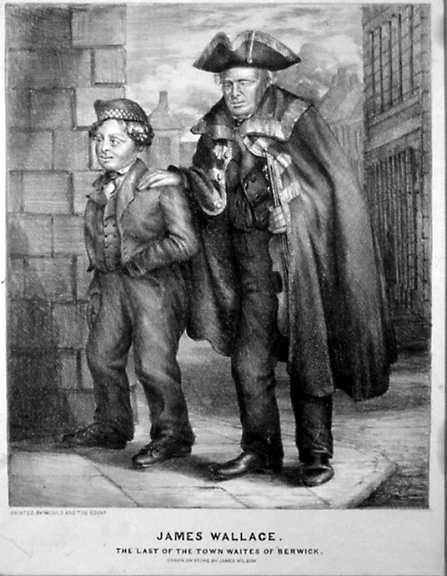 ---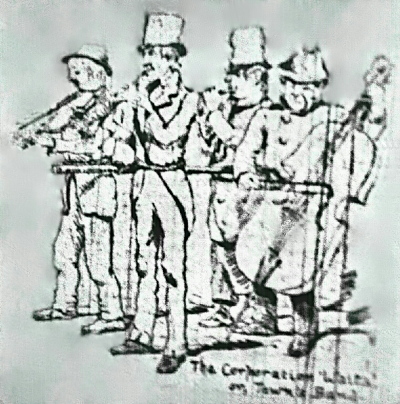 "I've put a picture on the Leeds Waits facebook page that appears to be the Bradford blind waits joined by a stick. Could you copy it to the Bradford waits historical records please?" Alan Radford, 7th March 2016.
The Yorkshire Evening Post in an "Old Leeds" item published on 9th March 1940 reprinted this archive drawing, allegedly of the 19th century Leeds Waits. However as they seem to be attached to a pole James Merryweather suggests that they are probably the (blind) waits of Bradford, three blind and one sighted to steer them around the town. They appear to be playing oboe, violin, flute and 'cello.
From "Pen & Pencil pictures of Old Bradford" by Wm Scruton (1889). 'The oldest company of Waits in Bradford was formed about ten years before the passing of the Reform Bill in 1832. In the year 1829, Mr. E.C.Lister and Mr. Matthew Thompson, who sat as magistrates at the "Spotted House", Manningham Lane, gave permission to one Samuel Smith, otherwise "Blind Sam", to form a company of Waits for the town. Sam was not long in finding three other associates (all blind) who were willing to join in the enterprise, and another (who was not blind) to act as guide. The names of Sam's blind companions were Jim Fletcher, Billy Blazeby and Jack Dodge. Furnished with musical instruments, and all tied to a pole, except the guide, they began their nightly perambulations, making music that could hardly be called sweet, but which linked with the festive season of Christmas and other interesting associations, was always welcome, especially to the young, who liked nothing better than to tumble out of bed to have "just one peep" at the odd procession as it passed along the street.'
In that this group was sponsored by the magistrates, I guess we should regard them as official waits, unlike the rival group which set up there in 1869. I have therefore omitted Scruton's paragraph on the latter group.
The drawing I turned up earlier, showing the musicians roped to a pole, would seem to be the Bradford blind waits (without their guide), but it doesn't come from Scruton's book so the original source of the reprint in the Yorkshire Evening Post is still a mystery…. Alan Radford.
---
Harper's Weekly January 6, 1872
What once was the wassail is now less poetically known as caroling, some also refer to it as the Christmas Waits. Pictured is a scene of traveling musicians serenading a crowd of elegant ladies and gentlemen. A maid pours drinks while a cellist plays, a boy sings and another plays the accordion.
The page measures 11 x 16 and is in excellent condition and is currently for sale at http://www.toddtarantino.com:80/harpers/wassail.html.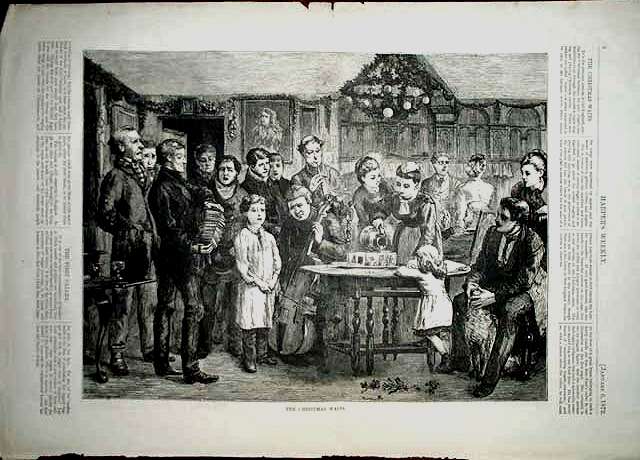 ---
Obviously the cartoon refers to the public bewilderment at Whistler's impressionistic "Nocturnes". I wonder if Whistler is an "occupational" surname for a Wait? David Jackson.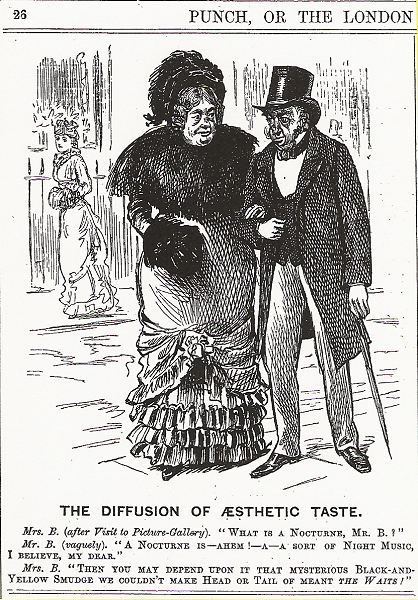 See Notes & Queries.
---
A single illustration plate – possibly taken from a book or magazine (unknown) portraying another group mof Christmas Waits.
Submitted by Tom Hughes.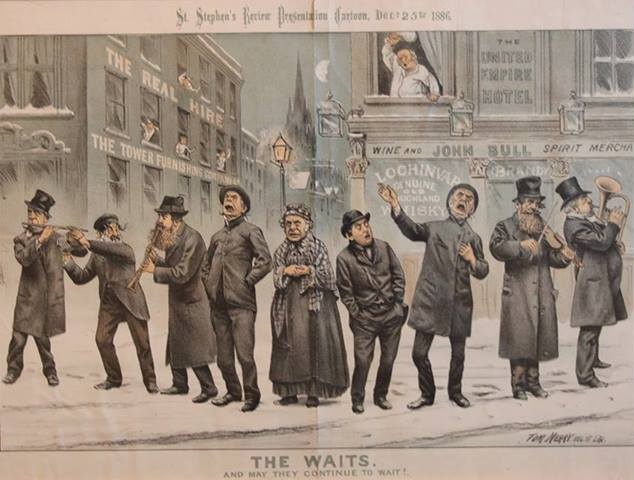 ---
Everything comes to him who waits.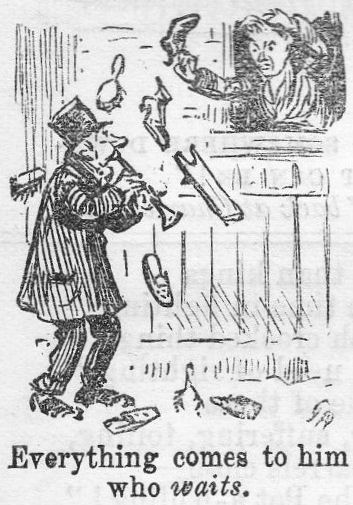 ---
This painting of Leicester Town Waits is by Henry Reynolds Steer (1858-1928)
Original in Leicester City Museum.
This painting shows the High cross, which stood at the junction of present day names of High Cross Street and High Street.
The Towns Waits, or civic musicians, are playing Christmas carols and their boy apprentice holds the music.
Not a bad Victorian representation of Renaissance Waits –
although the instruments they are playing – oboe, vox humana (tenor or alto oboe) or some sort of hybrid recorder, and some sort of 'cello or viol, are more late 18th/early 19th century.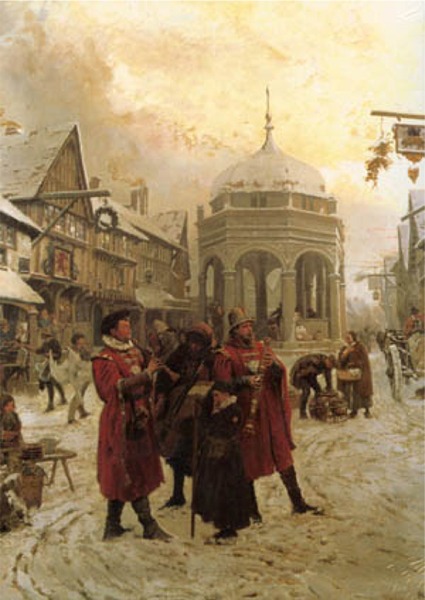 ---
from a Christmas Card sent by the High Constable of Lincoln, December 1908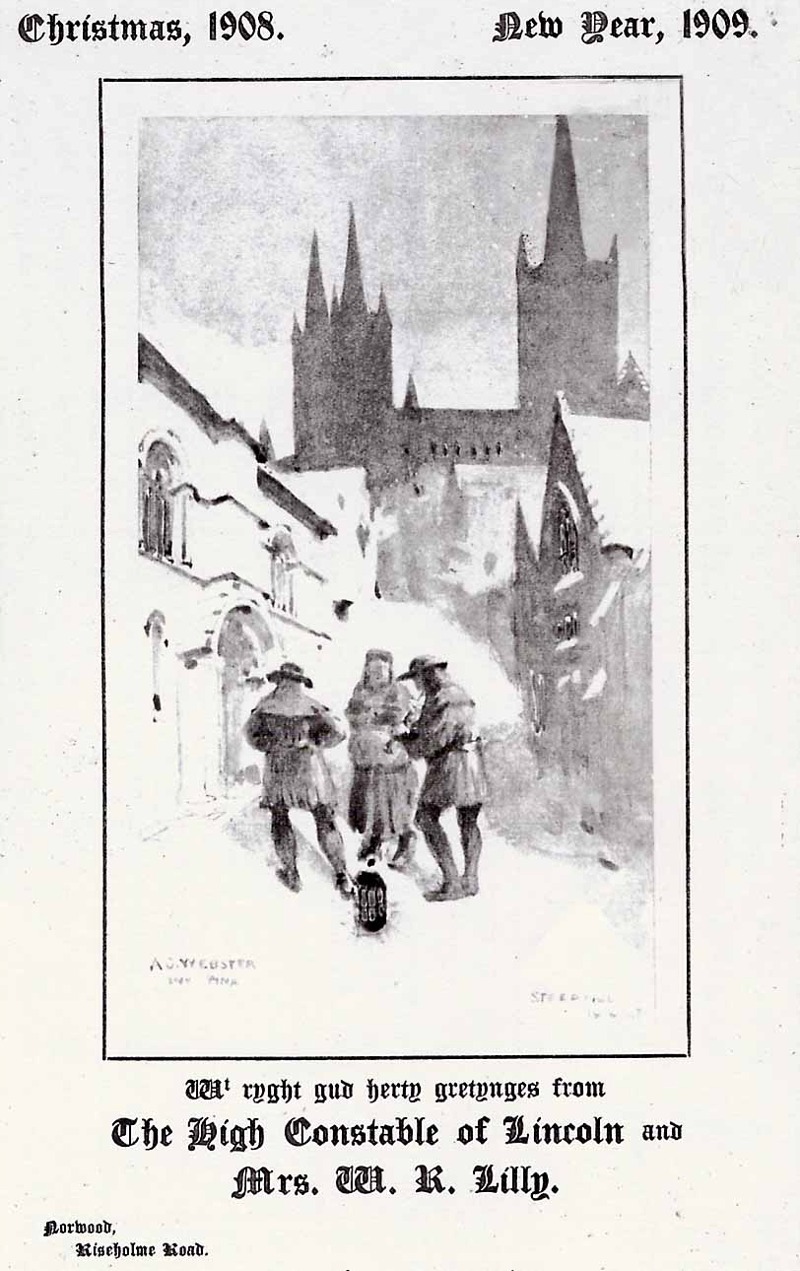 For the full story behind this image, and the tradition of "Crying Christmas", visit the Lincoln Waits research website.
---
Woodcut of three trumpeters a flautist and a taborer, found in the German language version of Wikipedia: Link. Wikipedia suggests that this is a picture of "Pifferbrüder" and associates the name of Olaus Magnus and the date of 1555 with the image. In southern Germany, Stadtpfeifferei guilds were referred to as "Piper Brothers" ("Pifferbrüder").
Olaus Magnus Gothus (b. 1490, d.1558) became Archbishop of Uppsala in 1554. Later, he became canon of St Lambert in Liége. He wrote "Historia de Gentibus Septentrionalibus" (History of the Northern Peoples), printed in Rome 1555. This book was a mixture of the folklore and the history of Sweden. As he travelled widely through europe, visiting Netherlands, Poland and Italy, it is difficult to say what nationality these musicians were.