John F Trexler, Charlotte Waites
(18 Feb 1951 – 9 Jun 2012)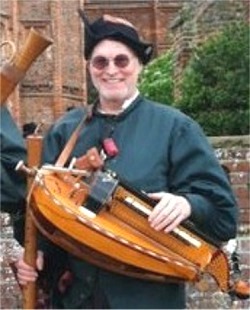 After a horrific fall at high speed while cycling near Concord, NC, John Trexler was taken by ambulance to CMC-Concord hospital. He sustained massive head injuries, and never regained consciousness at the hospital. A doctor on duty officially declared him dead at about 10 pm on Saturday, June 9th. Family and friends were at John's side. Please hold him and his family in the Light.
John had just returned Charlotte Waites' recent trip to the international gathering of Renaissance Town Bands, held in Colchester, UK. He had a wonderful time there, as we all did, and his hurdy gurdy playing was one of the hits of the festival. We'll all miss him enormously.
Don Boekelheide of The Charlotte Waites
John Trexler was an accomplished performer on many instruments, and could be heard regularly at the Carolina Renaissance Festival and at Ri Rá's Irish Pub, among other venues. In addition to an active performing career in the Charlotte area, John served on the faculty of the Mountain Collegium Early Music Workshop held each year in Cullowhee, North Carolina.