John Adson
Member of City of London Waites
1613 – 1640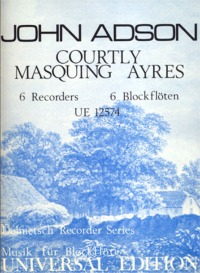 click image to order
'Courtly Masquing Ayres für 6 Blockflöten'
Biography
John Adson was a professional wind player as well as being a composer. Between 1604 and 1610 he was a member of the cornett and sackbutt band of Charles III, Duke of Lorraine. Soon after Charles III died (1608), Adson returned to England. By the end of 1613, he had joined the Waits of London (he remained a member of the City Waits for the next 27 years). He married Jane Lanerie in 1614 and they lived in the parish of St Giles Cripplegate. Two of his sons, Islay (or Islip; baptized 30 May 1615) and Roger (baptized 24 June 1621), also became musicians.
In November 1633 Adson became a Royal wind musician, playing cornett and recorder and in February 1634 he organized the wind players for the procession in the second performance of Shirley's Masque, "The Triumph of Peace". Nicholas Lanier, Master of the King's Music, strongly disapproved of Adson's involvement in this entertainment. Adson certainly enjoyed the sounds and the company of theatre musicians and paid little heed to the admonishment of Lanier. Adson was closely associated with the King's theatre company, and his name was even mentioned in its plays in 1634 and 1639/40.
In 1634 he was appointed music instructor to Charles I and for the last seven years of his life he was one of the 'King's Musicians for the flute and cornett'. He died on 29 June 1640 (aged about 60), and was buried at St Giles Cripplegate. He was succeeded at court by William Lanier and in the Waits of London by James Hinton.
Adson is best known for a collection of Dance music called "Courtly Masquing Ayres" (London, 1621; ed. P. Walls, London, 1975/6), which he dedicated to the Duke of Buckingham. It consists of 31 lively dances for "violins, consorts and cornetts". It is likely that most of these are his arrangements of tunes originally composed by royal musicians as Adson did not hold a court appointment when he published it.
Adson's theatre connections (pdf)
Music
Adson's Courtly Masquing Ayres:
notamos.co.uk (requires Sibelius "Scorch")
Courtly Masquing Ayres in pdf, jpg & mid formats: WIMA: Werner Icking Music Archive
CDs:Amazon
6 August 2014:
I have just looked at the very interesting biographical entry for John Adson on your Waits website, and can report that the isolated six-part [Air] in Fitzwilliam Museum MS 734 is reconstructed in my complete edition of the early-17thC wind player (http://www.severinus.co.uk/seme.htm): Twenty Almandes and a Pavan in Six Parts, ed. I. Payne, Severinus Early Music Edition 12 (Hereford 1999), Appendix I.Best wishes,Ian Payne (Dr)