Easingwold Waits
Arthur North
In October 2018, Su Maddison wrote to us:
2 Oct 2018   I have been going through some old papers/boxes and found a newspaper clipping relating to Mr Arthur North, my great grandfather, death and funeral dated 12th December 1959.
The newspaper clip is headed 'EASINGWOLD FUNERAL Survivor of old Town Waits' and records him as one-time member of the town band; the fire service and almost the sole survivor of the Town Waits.
I was immediately intrigued as I didn't know what a Town Wait was. I asked my father, aged 82 if he recalled anything about it. He recalled his grandfather being in the Easingwold town band but didn't know anything about the Town Waits. Likewise his cousin in her eighties didn't know anything. My father thought he played a cornett [more likelt a cornet – ed.] in the town band.
Whilst searching the internet for clues, I discovered your website. I note that you have Town Waits recorded for York and Ripon but not for Easingwold. Easingwold is a small market town approx 12 miles north of York. I wondered if you had anything or anyone else recorded for Easingwold.
I will try to find out more locally but if you can advise me if you have heard of Easingwold before I would be really interested to know more.
This is the cliping that Sue refers to: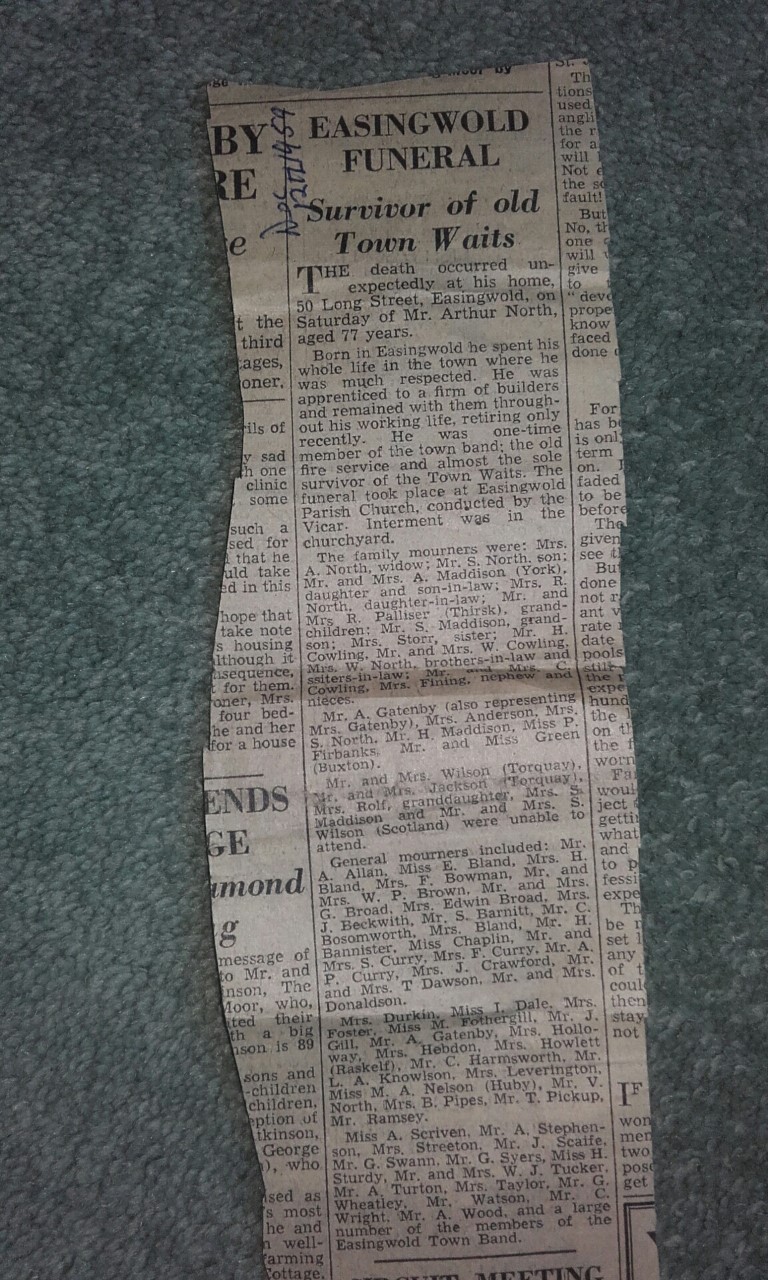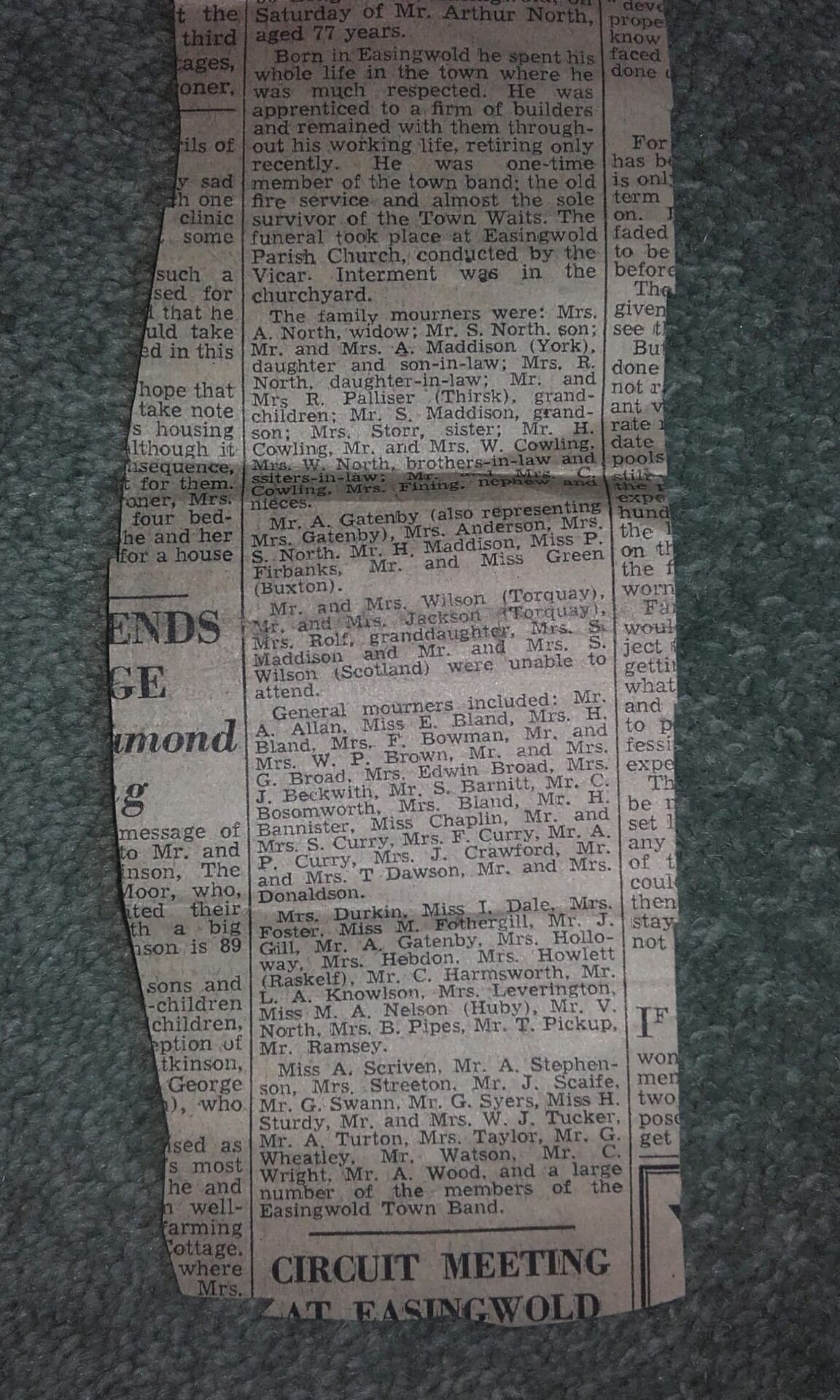 Chris Gutteridge replied:
2 Oct 2018:   Many thanks for your fascinating email. As far as I know, we have no information on Easingwold Waits, and anything you may have will be of great interest to us. Most British towns of any size had a band of Waits at some point in their history, but records are patchy. Officially, Waits were abolished countrywide in 1835, but we have met instances of them continuing unofficially after that.
I am passing your email on to other members of our guild to see if they have anything to add, and would be very grateful for a photo of the clipping you have found.
Alan Radford replies:
3 Oct 2018:   As a first guess, it does sound as if a "new" town brass band in Easingwold took on the traditional title of waits. The third quarter of the 19th century was when pioneers like Herbert Milburn were setting up brass bands in towns, mines and mills all over Yorkshire and the north-east, and surviving old-style waits were still around. As a matter of fact, Milburn's own Leeds brass band played at the funeral of Thomas Crawshaw, last of the Leeds Waits, in 1858.
p.s. I've just remembered an example of the official revival of the term waits for a "modern" musical ensemble. Back in the 1960s the Corporation of the City of London proclaimed the London Symphony Orchestra the official City of London Waits.
Please keep us posted if you discover anything more.
More from Sue:
10 Oct 2018:   I found a mention of waits in a local book, recording the history of the local Cowling family. Interestingly my grandad was married to Florence Cowling, who I do remember as she lived until 1969.
Today I have been talking to the current owner of the 'Easingwold Advertiser' he knew my great grandad and played in the brass band with him. He remembered the waits going out at christmas dressed up, and was going to have a look through some of his old newspapers to see if he could see any more info.
Chris replies again:
10 Oct 2018:   That's fascinating, Sue. As I suspected, he was a Christmas Wait, but it would be very interesting to know how he "dressed up", and whether he wore some sort of uniform or robe, which might be a vestigial link back to the original civic Waits!
Keep searching!